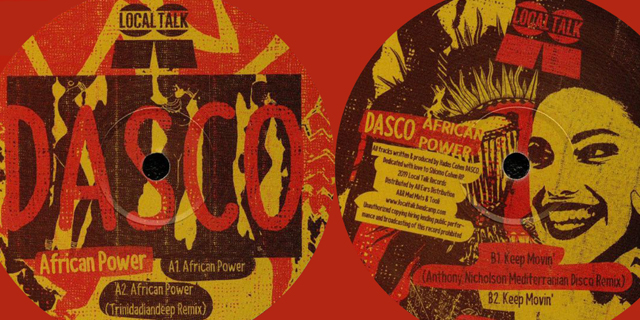 DASCO – African Power on Local Talk label
"I dedicated this EP to my dear father, Shlomo Cohen (RIP) that passed away about 4 years ago. Even though he is not here anymore, I still feel him with me everywhere I go. My father was a very good hearted, smart and spiritual person and always gave me a lot of mental support, encouraging and strengthening. I truly believe that I am where I am today a lot because of him." – DASCO
Superb opener 'African Power' is a groovy house track inspired by African music elements with exquisitely loose and jumbled drums, bass riffs, sci-fi pads, fluttering trumpets and more all colour the groove with impossible musicality which make it brim with soul from start to finish.
Trinidadiandeep strips things back on 'African Power' to the deep, leggy drums and allows the trumpets and synths to ring out that bit more.
Long-time Chicago house denizen Anthony Nicholson then serves up a Mediterranean Disco Mix of 'Keep Moving' with sunny keys and airy chords layered over a lush, expansive groove that is utterly timeless. Finally, Keep Movin'' is a spiritual house tune with culturedafro kicks and hits which feel live and organic, embellished with warm and soul-infused chords that swell the heart.