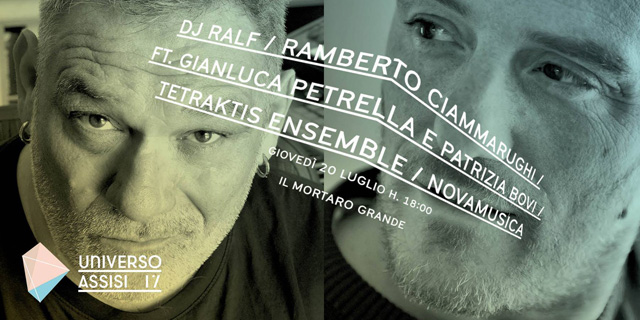 Lo Soffia il Cielo c/o UNIVERSO ASSISI 2017
Music is beauty. Art is beauty. Beauty is sacred. And it must be celebrated.
Lo Soffia il Cielo si a concert designed by Ralf and Roberto Ciammarughi, who sees in the organ Gianluca Petrella (one of the greatest jazz trombonists in the world), the Tetraktis Percussion, Patrizia Bovi (a singer with a refined antique song) Francesco D'Oronzo to Guitar and Fresco to Sound Engineering and Programming.
It is a journey that mixes jazz, electronic, ancient and contemporary music, where moments of celestial melody and streamlined harmonic streams alternate with free jazz. Imagine the atmosphere of Maderna, Edgar Varese, Paul Bley, Domenico Modugno, armed, Robert Fripp, Francesco Landini, Alexander Agricola, Zachara da Teramo, Guillaume de Machaut, all fused into the "cosmic" Neu and Tangerine Dream. The music is all original and composed by Ramberto Ciammarughi, while the bases by Gianluca Petrella, myself, Leonardo Ramadori, with the fundamental contribution of Fresco.
The production of the event is UniversoAssisi.