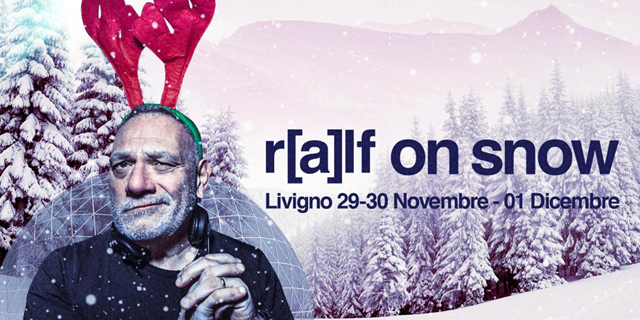 Three days on the snow of Livigno with Ralf
Ralf On Snow. A suggestive and immediate name for Dj Ralf's new idea, which brings an increasingly popular format to Italy, that of the winter mountain festival. Although Ralf On Snow is not a real festival, the characteristics are those of a "boutique festival": different locations, different appointments (day and night), a charming place (Livigno, one of the most popular ski and mountain destinations) beautiful of Italy), lots of music (declined in different styles and moods) and the chance to spend the days on the slopes and nights … on the track. Snowboarding, skiing, walking, Valtellina (notable) cuisine and the music of Ralf and his guests: Fabrizio Mammarella, Fresco, Philipp & Cole, Federico Grazzini, Tommy All, Ricky Le Roy, and many others.
Something that is born "at Ralf", with the will and desire to do something that puts everyone at ease, and that sense of familiarity and confidence proper to the Umbrian DJ. "We wanted to do, me and my entourage, something like this for a couple of seasons, but we never managed to take our heads seriously. Then we thought the best solution would be to bring the idea of ​​Ralf into Bikini in a mountain resort, reversing the situation. And so Ralf On Snow was born "he tells us. In a context where the DJs are all friends, and where the parties begin early, around noon. "The beauty of the mountain is that the days start early, there are those who go skiing, or snowboarding, and those who do not ski like me and can devote themselves to walks. Then we begin to put the music. Livigno is a truly magical place, it is unique, isolated and has a geography of its own. It is no coincidence that it is called "the little Tibet" ".
Three days of music, many different locations. "There is a very wide choice of events and DJs, a nice variety, I like the idea that those who feel at home are part of something, and that in different places and places there is room for different music, from noon until night. We already have lots of reservations and some hotels are sold out. It will be a "first time" that I hope can become a regular event ".
Ralf On Snow promises to be a very fun weekend for all these details.
Find all the info, the complete line up, and the details there: